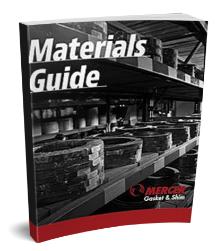 Choosing the ideal material for your application is a critical decision; important points you must consider are temperature, pressure, and chemical exposure of the gasket's environment. Mercer Gasket understands the importance of this decision, which is why we offer a large selection of standard and specialized materials that can withstand the most extreme operating environments.
Our gasket materials have different mechanical and chemical properties, making them suitable for a wide range of industrial applications. To categorize the performance characteristics of our materials, we have created a Materials Selection Guide.
Available as a free download from our website, this in-depth guide provides information on the materials we offer—temperature ranges, chemical resistances, specific features and applications, and more. Our many material offerings include:
Butyl
EPDM
Natural (Pure Gum)
Neoprene, Cloth Inserted Neoprene
Nitrile (NBR, Buna-N)
Red Rubber and Cloth Inserted SBR
Silicone
Vinyl
Viton®
EPDM
Hypalon
Neoprene
Nitrile, Metal Inserted Nitrile
SBR
Nitrile
SBR
Pure Flexible Graphite
Pure Flexible Graphite – Metal Inserted
Copper
Brass
GHL
Grafoil®
Titanium
Soft Iron, Low Carbon Steel
Stainless Steel (Types 304, 316, 321, 347, 410, 430)
Nickel
Monel®
Inconel®
Hastelloy®
Pure PTFE
Filled PTFE
Filled PTFE – Metal Inserted
Expanded PTFE
We also manufacture products of specialized materials, such as ceramic, fiberglass, cork, vegetable fiber, and others. Please contact us for more information on our custom materials—Mercer's customer service representatives are available 24 hours a day.
To obtain your free copy of Mercer Gasket's Materials Guide, simply click the button below and complete the short form.
In addition to this Materials Guide, we also have other resources available, including an elastomers material guide, chemical resistance charts, and an eBook on selecting the right gaskets for you application.
To access our collection of resource materials, visit our Resource Library here or click the button below.