While gaskets and O-rings serve a similar purpose of sealing out air or liquid, the two are designed for different situations and vary in appearance. Here, the team at Mercer Gasket & Shim will explain the differences between these sealing solutions to help you determine the best one for your application.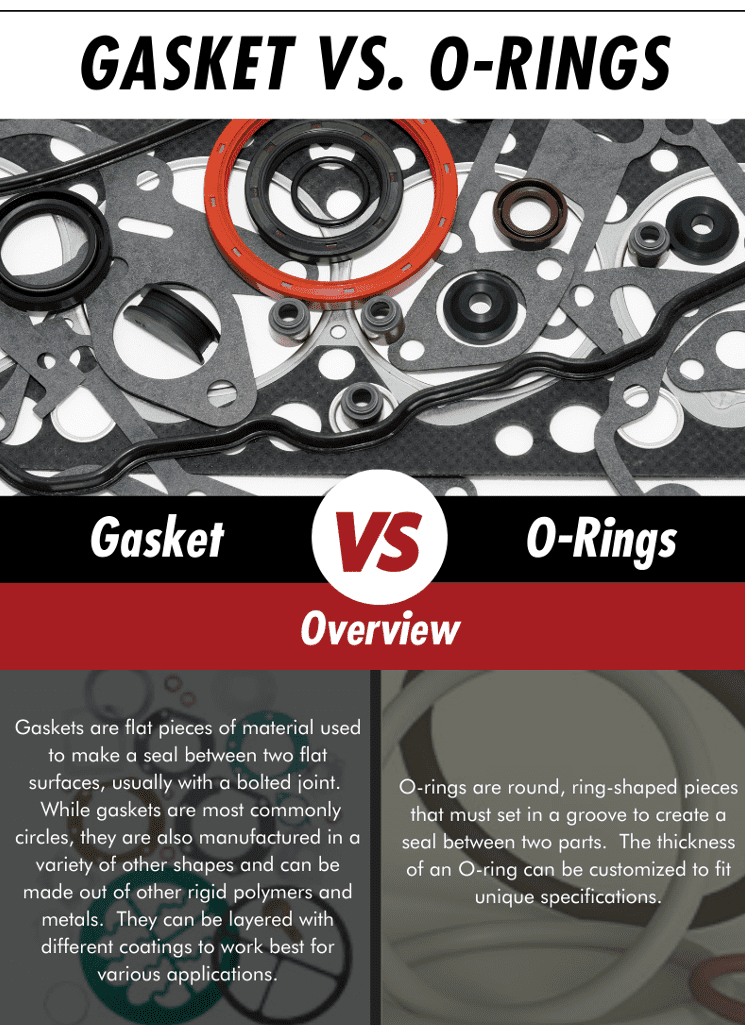 What Are Gaskets and O-Rings?
Gaskets are flat pieces of material used to make a seal between two flat surfaces, usually with a bolted joint. O-rings are round, ring-shaped pieces that must set in a groove to create a seal between two parts. While gaskets are most commonly circles, they are also manufactured in a variety of other shapes. Both gaskets and O-rings are made using flexible materials, but gaskets can also be made out of other rigid polymers and metals. The thickness of an O-ring can be customized to fit unique specifications, while gaskets may be layered with different coatings to work best for various applications.
Common Applications for Gaskets
Electrical motors, power generators, and transformers
Electronics
Handheld communication devices
Telecommunications equipment
Aerospace and defense industry
Transportation and automotive
Medical devices
Food and beverage industry
Common Applications for O-Rings
Hydraulic seals
Pipe joints
Equipment with fluid seal points
HVAC – Heating, Ventilation, and Air Conditioning
Oil seals
Fuel systems
Food processing
Pharmaceutical and medical industry
Pulp and paper industry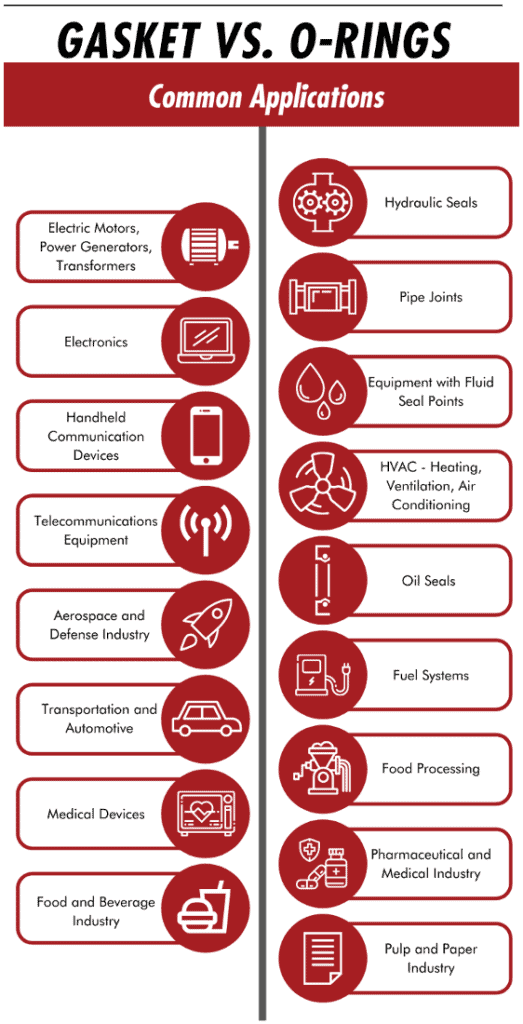 Choosing the Best for Your Application
When deciding whether a gasket or O-ring is best for your application, consider the environment and function of the seal. When choosing the best seal, look for features such as shape, temperature, and pressure.
When a non-circular joint requires a good seal, an O-ring would be difficult to use because of its round shape. Gaskets can be customized to almost any shape, allowing them to work as a seal for a larger variety of applications.
The operating temperature of equipment will determine the best material to use for manufacturing the O-ring or gasket. While both can withstand a wide range of temperatures, gaskets are best for extreme temperature situations. However, O-rings perform better than gaskets in applications with extreme pressure.
---
Contact Us for Your Gaskets and O-Rings Needs
Mercer Gasket & Shim is a premium manufacturer of custom O-rings and gaskets in an array of materials and sizes to best suit our customers' needs. Our team has over 80 years of experience in sealing solutions. We are committed to the highest standards with a target for 100% on-time delivery and a 0% defect rate, and strive to provide the fastest turnaround in the industry. To learn more about our cost-effective, durable sealing solutions contact us or request a quote today.