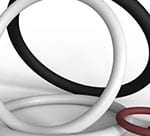 Many companies like to tell you they are experts in their field. Unfortunately, they also ask you to trust them without further proof. Their websites and their solutions to your needs are cut-and-paste. At Mercer Gasket, we believe that providing information for our customers is the best way to educate and provide additional services.
That is why we support you with reference materials available on a wide range of topics. This extra information allows us to share our over 80 years of experience in handling the materials that make quality gaskets and shims.
One perfect example of our commitment to keeping you informed is our collection of free Chemical Resistance Charts. Downloadable from our website, these charts provide a list of the chemical resistance for various metallic and elastomer materials we work with at Mercer Gasket. These in-depth charts deal with a variety of factors that influence the overall rate of corrosion in metals and elastomers such as:
Metals

Concentration
Temperature
Degree of agitation
Presence of Impurities
Elastomers

Service temperature
Service conditions
Grade of the polymer
Nature of the compound
Durometer or hardness of compound
Utilizing this information is critical when it comes to choosing the right material for your custom gasket or shim. Mercer Gasket understands that one-size does not fit all. Every one of our customer's needs are unique, which is why we use information like our chemical resistance charts to tailor our services to meet your exacting requirements. We take pride in getting things right the first time.
If you want to learn more about Mercer's chemical resistance charts simply click the button below and you'll be able to download your free copy today.