Home >

Gasket Materials from Durlon® Sealing Solutions
Gasket Materials from Durlon® Sealing Solutions
Effective fluid sealing solutions start with selection of the best possible gasket materials. With over a century of fluid sealing experience the Mercer Gasket & Shim Co. customer support staff possess the know-how to provide the best material for your sealing requirements. Mercer is an authorized stocking distributor offering a wide range of safe, reliable, and innovative gasket materials from Durlon® Sealing Solutions. The Durlon® time-tested materials are used to satisfy rigorous applications under the most demanding conditions in the chemical processing, paper & pulp, power generation, water & wastewater, rail-tank car, and pharmaceutical industries. Contact our support team with your gasket material needs!
Providing Innovative & High-Quality Fluid Sealing Solutions
Compressed Non-Asbestos Sheets
PTFE Sheets/Gaskets
High Temperature Sheets/Gaskets
Low Seating Stress Gaskets
Water /Sanitation NSF/ ANSI 61 Gaskets
Semi Metallic Gaskets
Flexible Graphite Sheets/Gaskets
Metallic Gaskets
Durlon® 9600 Expanded PTFE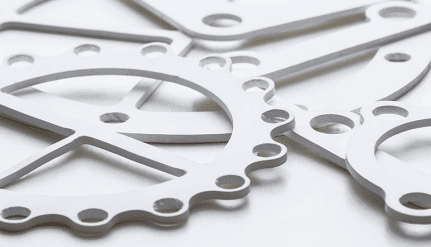 Made from pure PTFE resin that offers compressibility up to 60% and is resistant to highly aggressive chemicals
Suitable for use in steel flanges and flanges with irregular surfaces
Unique expanding process creates a high degree of fibrillation with nearly uniform strength in all directions minimizing cold flow and creep while maximizing performance stability and reliability
FDA compliant, ABS-POA & USP Class VI certified
Durlon® HT1000 (Ultimate Mica Technology)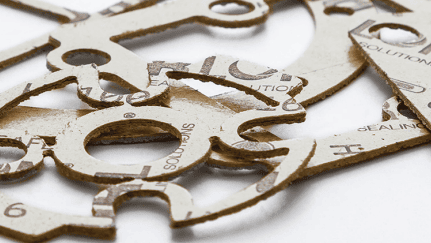 Phlogopite mica paper impregnated with an inorganic binder
Superior weight retention: less than 4% weight loss at 800°C [1,472°f), and extreme temperature sealing performance up to 1,000°C (1,832°f)
Flexible, elastic, has a high tensile strength, can withstand substantial mechanical pressure perpendicular to the lamellar plane, chemically resistant fireproof, infusible, incombustible, and is a known non-toxic alternative to asbestos
Available styles: S90, L316, T316
Durlon® Flexible Graphite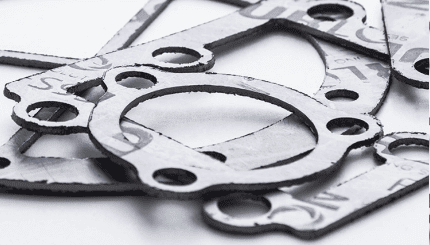 Available in a homogeneous, laminated and tanged styles with various thickness stainless cores
Unaffected by heat over a wide range of temperatures
Exhibits low electrical resistivity and high thermal conductivity and is suitable for cryogenic temperatures
FGS95: Standard industrial grade sheet containing no binders or resins
FGL316: Standard industrial grade sheet laminated with an adhesive bond on both sides of a 0.002″ thick 316 stainless steel foil core
FGT316. Standard industrial grade sheet mechanically bonded on both sides of a 0.004″ thick 316 stainless steel tang core.
FGM316: Inhibited grade sheet laminated with multiple layers of 0.004″ thick 316 stainless steel toil core.
Durlon® 9000 Step Ring Gaskets
Gasket Resources Inc. has improved upon the original design of the "glued" Step Ring Gasket that has been the industry standard for years. The old design Step Ring Gasket consisted of a 1/16″ thick standard ring section plus a 1/16" thick inner ring section bonded together with an adhesive.
GRI is able to CNC machine Step Ring Gaskets out of a single piece of Durlon® 9000, all while maintaining the same dimensional design. The solid piece construction prevents the possibility of gasket separation and the unneeded maintenance cost of gasket material ending up in your process. Our easy to install Durlon" 9000 Step Ring Gaskets are great for low bolt load applications and raised face flanges that easily deflect.
Durlon® Sealing Products:
Safe, Reliable & Versatile
Widest possible range of service applications – number of different types of gaskets to be inventoried can be greatly reduced
Boost to process safety – limiting the number of gasket styles reduces the chance of installing the wrong gasket in the wrong service
Unvarying performance on the job – gasket materials are manufactured to ISO 9001 :2015 quality standards and are subjected to continuous testing and rigid quality control
Durlon® 8700 Aramid/lnorganic/CR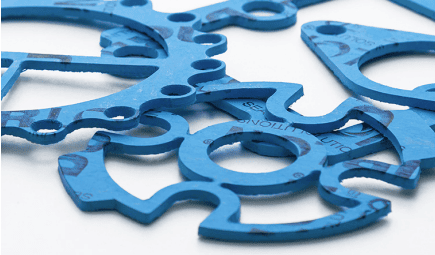 Contains high strength aramId and inorganic fibres bonded with high grade neoprene {CR) rubber
Excellent resistance to ozone, Oils, non-aromatic solvents and refrigerants
Top performer for original style HVAC OEM applications
Durlon® 8900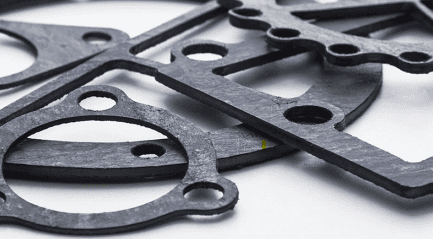 Premium grade compressed high temperature non-asbestos sheet for service conditions to 496°C (925°f) and continuous operating temperatures of -73°C to 400°C ( 100°f to 752°f) or 13 8 MPa (2,000 psi)
Passed ANSI/API 607 (6th Edition) Fire Test with zero recorded leakage
Durlon® 9000/9000N lnorganic/PTFE
Durlon® 9000/9000N is for use in process piping and equipment in chemical, pulp & paper, food & beverage, pharmaceutical and other general industrial applications where resistance to highly aggressive chemicals is required and the shape of the fillers do not allow wicking which can cause corrosion on flange surfaces
Durian 9000 has achieved numerous certifications: WRAS (Water Regulation Advisory Scheme) Approved Material, USP Class VI, FDA and (EC) 1935/2004 & EU (10/2011) BAM oxygen service, TA-luft (VDI Guideline 2440), ABS-PDA & Pamphlet 95, the chlorine institute, DNV-GL and has passed the API 6FA fire test
Durlon® 9000N is FDA & USP Class VI certified
Durlon® 9002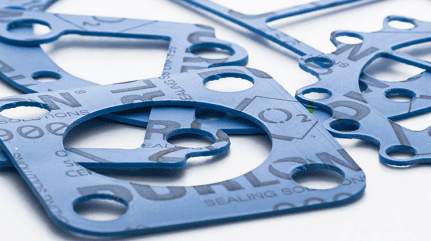 Meets extreme cryogenic demands
Passed BAM certification for both gaseous and liquid oxygen tests up to 260°C (500°f) at 52 bar (754 psi)
Traditional oxygen cleaning standards applied gaskets can be bagged, labeled and sealed according to the European Industrial Gases Association standard for Cleaning of Equipment for Oxygen service
LOX Mechanical Impact Sensitivity (ASTM G86- 98a) passing with zero reactions out of twenty tests (0/20) at a test reaction frequency of 0%
Conforms to FDA requirements of 21 CFR 1550 for food and drug
Durlon® 9200 Barium Sulfate/PTFE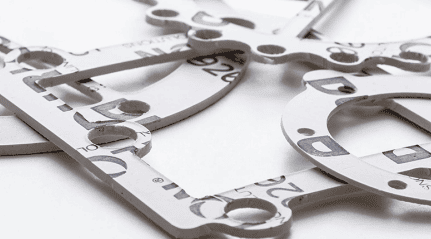 Barium sulfate filler blended with pure PTFE resin
Suitable for hydrofluoric acid service
BAM tested and certified for gaseous oxygen at pressures up to 52 bar (754 psi) and 260°C (500°f)
Conforms to FDA requirements of 21 CFR 1550 for food and drug
Durlon® 9400 Carbon/PTFE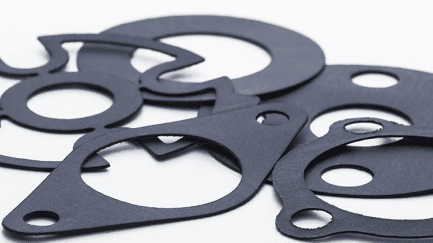 Pure PTFE resin combined with carbon filler homogeneously dispersed throughout the compound
Developed for use in general industrial applications where resistance to highly aggressive chemicals (Hydrofluoric Acid and Anhydrous Hydrogen Fluoride) is required
Demonstrates good electrical conducting properties where flange electrical continuity is required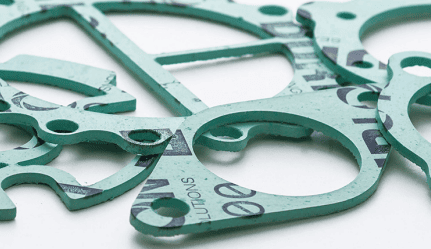 Durlon® 5000
Good quality commercial grade compressed non-asbestos sheet tor moderate service conditions suitable for steam, oil, water, mild alkalis, mild acids, hydrocarbons and solvents
Durlon® 7900/7925/7950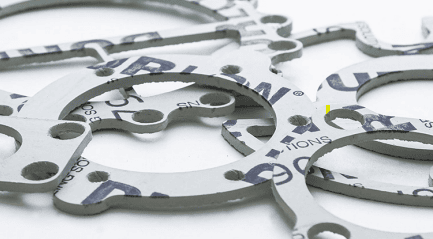 General purpose sheet containing high-strength aramid fibres bonded with high-grade (NBR) Nitrile Bonded Rubber
For applications in steam, hydrocarbons and refrigerants and an alternative when temperature and pressure conditions are below 260°C (500°F) and 1200 psig
Durlon® 7910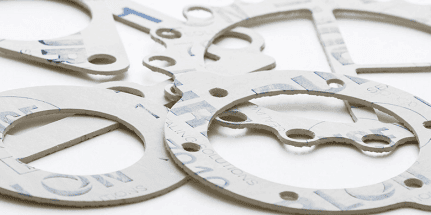 Commercial grade material containing high-strength aramid fibres bonded with high-grade (NBR) Nitrile Bonded Rubber
Compressed sheet gasket material specifically developed to meet the requirement of NSF/ANSI 61 for potable water application at 23°C (73°F) to commercial hot 82°c (180°F)
Durlon® 8300 Carbon/NBR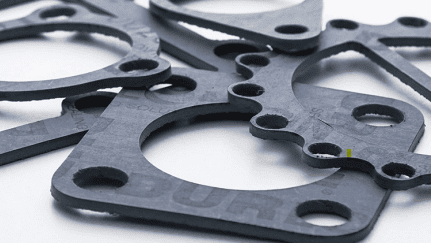 Premium grade, multi-service, high strength carbon fibre and NBR gasket sheet suitable for a broad range of chemical and thermal services
Can be exposed to extreme pressures and temperatures
Excellent sealability during thermal cycling
Durlon® 8400 Phenolic/NBR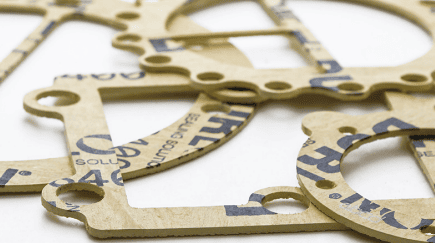 Outstanding material designed for higher temperature and pH applications
Provides widest range of chemical resistance of any of our non-asbestos gasket material
Excellent torque retention to maintain Cathodic Protection (CP)
Durlon® 8500 Aramid/Inorganic/NBR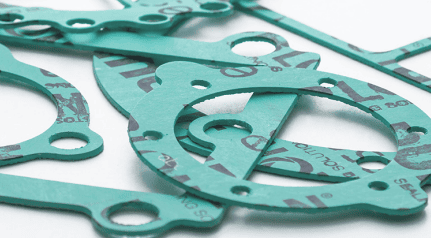 Contains blend of high strength aramid and inorganic fibres
High performance gasket material for general purpose applications
Surpassed the API 6FB fire test & conforms to FDA 21 CFR 1 n 2600
HVAC service fitness tested and compatible with modem refrigerants
Durlon® 8600 Aramid/lnorganic/SBR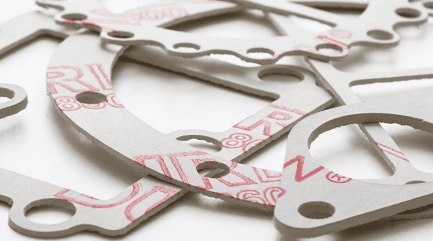 Unique blend of high strength aramid and inorganic fibres with SBR binder for use in process industries including pulp & paper, power, petrochemical as well as general industry where a "white" gasket material is often required when working with food & beverage, pharmaceutical and plastics