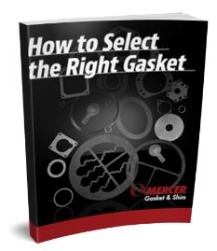 Gaskets are vital for preventing the escape of fluids or air in several types of applications. Since gaskets are available in many different materials, sizes, and styles, selecting the right gasket can be a difficult and sometimes overwhelming experience.
Mercer Gasket has produced custom gaskets for over 80 years, so we know the criteria for choosing ideal products—that's why we have created an eBook titled How to Select the Right Gasket. This free download is a guide to finding the gasket most suitable for your unique application.
There are many factors that need to be considered when making this choice, and this eBook has been specially crafted by our team of experts to explain the gasket selection process. This comprehensive guide will discuss topics that include:
Selection Factors and Properties
Gasket Materials (Elastometric and Fibrous)
Gasket Construction (Soft, Non-Metallic, Semi-Metallic, Metallic)
Testing (As per various industry standards)
With an in-depth understanding of the variables pertaining to gaskets, we aim to prevent you from experiencing gasket failure and potential downtime or equipment failure.  Matching the properties of the gasket to the application ensures optimal performance.
As a leader in the manufacturing of gaskets for several industrial applications, Mercer is an authority on providing our customers with the materials and knowledge they need to make informed choices. Download your free copy of How to Select the Right Gasket on our website, or by clicking the button below and filling out a short form.
We can also provide other resources, including material guides, metric/decimal equivalent charts, and chemical resistance chart that can be found in our Resource Library. Please contact us if you need further assistance choosing ideal gaskets for your application—our customer service representatives are always available to help.