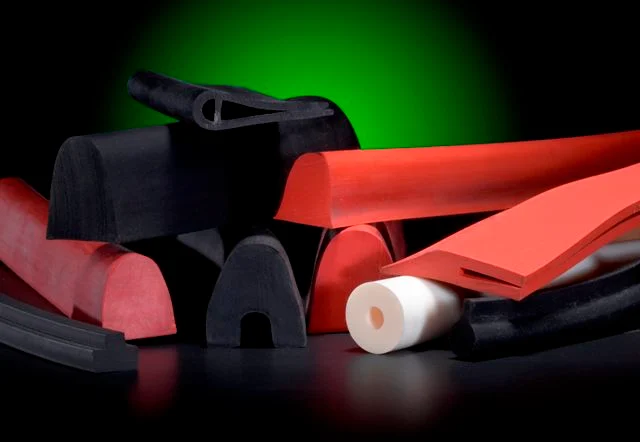 The location of a gasket is of utmost importance, especially if it is going to be exposed to the elements. For this reason it's imperative to choose top quality weather resistant materials to enhance the longevity and performance of outdoor gaskets. There are a number of important factors to think about in regard to weather resistance including sunlight, temperature, ozone, and inclement weather conditions (rain, hail, sleet, snow, etc.).
Weather's Effect on Gasket Performance
Many outdoor gaskets experience direct sunlight. This can increase internal temperatures to more than 140°F. In addition, heat cycling can accelerate compression set in many gasket materials.
On the opposite end of the spectrum, gaskets in many climates experience freezing temperatures during winter. Frozen gaskets are highly susceptible to cracking, and problems can intensify when the temperatures rise above freezing. As snow and ice melt, gaskets that stiffened due to cold temperatures are more apt to leak.
Additionally, gaskets often require ozone and ultraviolet light (UV) resistance. Ozone not only occurs in nature, but also can be generated by certain outdoor enclosures that house electrical components. UV exposure can also be detrimental to a gasket's life and integrity.
UV and ozone resistant materials should always be considered for gaskets that will be outdoors or near electrical enclosures. Finally, whenever gaskets are compressed and then re-compressed by any type of weather conditions, it's important to choose gaskets that have the ability to be rebound.
Materials That Stand Up to the Elements
The following are a few examples of commonly used materials that help minimize the impact of harsh weather conditions.
Fluoroelastomer (Viton®) –This is a fluorocarbon-based synthetic rubber well-known for its excellent performance and resistance to chemicals. It is also highly resistant to many extreme environmental conditions. Fluoroelastomer can handle high temperatures, ozone, and oxygen, as well as fuels, mineral oil, and synthetic hydraulic fluids. It can operate in maximum temperatures from 400°F during continuous service and up to 500°F in intermittent service.
Polyurethane – This compound features excellent abrasion resistance and tensile strength compared to other elastomers, and these qualities translate well into excellent performance in all weather conditions. It also features good resistance to ozone and operates in temperatures as low as -22°F and as high as 230°F.
Ethylene Propylene Diene Monomer (EPDM) Rubber – EPDM rubber is compatible with a wide variety of materials and exhibits outstanding weather resistance. This synthetic rubber can resist the deteriorative effects of ozone, oxygen, heat, and weather, along with many chemicals, oils, and acids. EPDM has a wide range of serviceable temperatures, from -40°F to +250°F, and intermittent to +275°F. It also exhibits excellent resistance to steam and polar substances.
Silicone – Silicone is an extremely versatile material. It features excellent elastomeric properties at both low and high temperatures. Silicone is highly resistant to oxygen, ozone, UV light, aging, weather, and extreme temperatures. It works in temperatures that range from -67°F to +400°F, and intermittent to +450°F.
There are numerous options for outdoor gasket sealing. The materials listed above have a number of advantages and disadvantages when it comes to cost and resistance to specific weather conditions.
Talk to a Professional
At Mercer Gasket and Shim, our team of experts is available for consultation 24 hours a day if you need assistance choosing the right gasket material for your application. Our ISO 9001:2008 certified facility stocks a broad range of gaskets and gasket materials, able to suit any weather-related application. Contact us today to learn the many advantages of making Mercer your gasket and sealing product source.
Read more about the materials used by Mercer Gasket in our full Materials Guide, available for download here: